Amazon Eero WiFi 6 and Pro 6: The internet has become a cornerstone of our daily lives. From working and studying to staying in touch with family and friends, and even streaming movies and shows, it is a major part of life. That's why having a reliable connection is key, and mesh routers can provide just that. Of the mesh routers available, Amazon Eero is one of the top brands.
Table of Contents
What is Amazon Eero?
Amazon Eero is a brand of mesh routers designed to provide fast, reliable Wi-Fi coverage to every corner of your home. Unlike traditional routers, which rely on a single device to provide coverage, mesh routers use multiple devices to create a network that blankets your home in Wi-Fi. The network is capable of providing wider coverage, reducing dropouts, and quickening connection speeds even when multiple gadgets are being utilized simultaneously.
Amazon Eero offers a range of products to suit different needs and budgets. The Eero WiFi 6 and Pro 6 are the latest additions to the lineup, and they come with some impressive features.
Amazon Eero WiFi 6 and Pro 6
Amazon Eero WiFi 6
Eero WiFi 6 is an up-to-date mesh router that adopts modern Wi-Fi 6 technology. Compared to the earlier versions, it is much quicker, covers a broader area, and supplies extended battery life for associated gadgets.
The Eero WiFi 6 comes with two devices that work together to provide coverage for up to 3,000 square feet. You can also add additional devices to expand the coverage if you have a larger home. Connecting all of your devices is easy and hassle-free with the router, which allows up to 75 of them, ensuring a reliable and swift connection for all.
With its convenient setup, the Eero WiFi 6 stands out from the crowd. The Eero app helps you through the setup process with clear instructions and also offers additional functions, such as managing your network, implementing parental controls, and monitoring internet speed and usage.
Amazon Eero Pro 6
The Eero Pro 6 is a more advanced mesh router that offers even faster speeds and greater coverage than the Eero WiFi 6. It supports the same Wi-Fi 6 standard and comes with three devices that provide coverage for up to 6,000 square feet.
Like the Eero WiFi 6, the Eero Pro 6 is easy to set up using the Eero app. The app also lets you manage your network, set parental controls, and monitor your internet speed and usage.
One of the standout features of the Eero Pro 6 is its tri-band design. Unlike most mesh routers, which use a dual-band design, the Eero Pro 6 uses a tri-band design that dedicates one band exclusively to communication between the devices. This means that you get faster speeds and better coverage, even when multiple devices are connected to the network.
Today's Deals on Amazon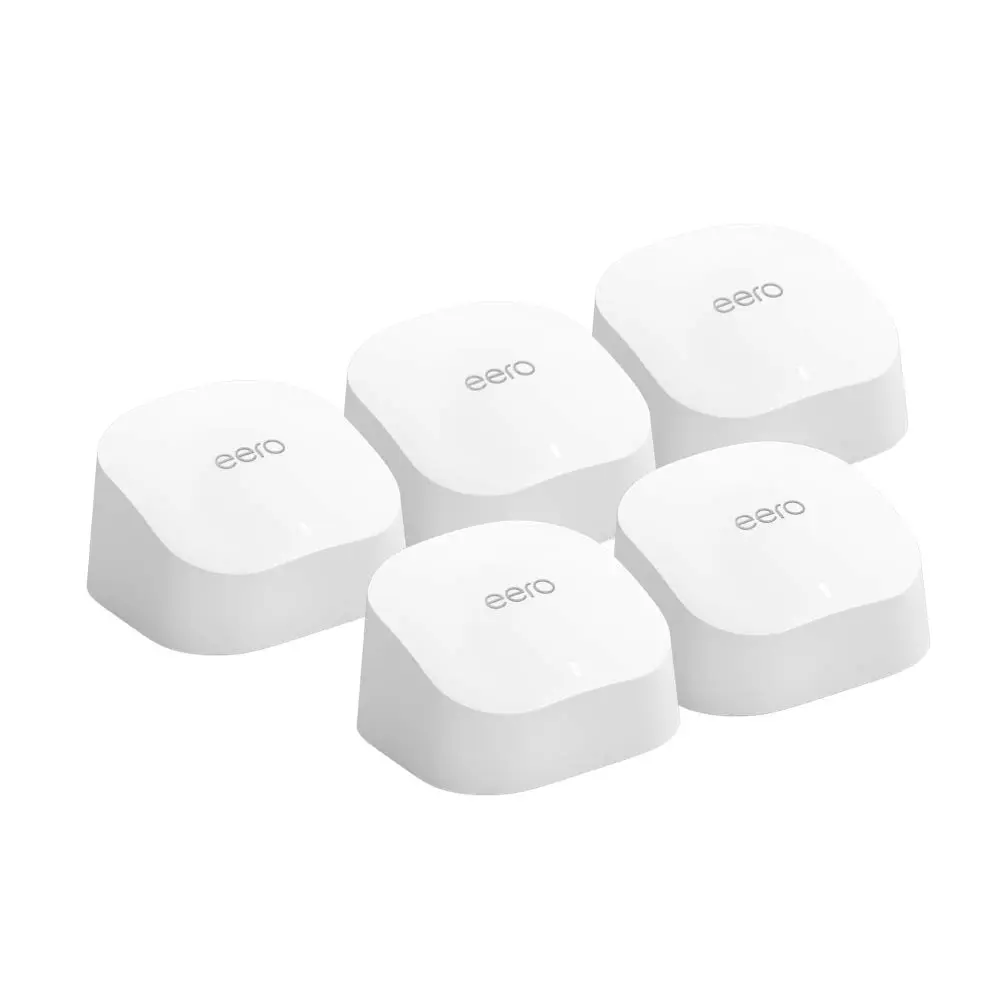 If you're on the hunt for a mesh router, now is the perfect time to purchase an Amazon Eero. Amazon is currently offering some excellent deals on the Amazon Eero WiFi 6 and Pro 6.
The Eero WiFi 6 is currently available for $159, down from its regular price of $199. This is a saving of $40 or 20%. The Eero Pro 6 is also on sale, with a $60 discount. Originally costing $539, this product can now be purchased for only $479. This is a saving of over 10%.
If you're looking for an even better deal, Amazon is also offering a bundle that includes the Eero Pro 6 and two Eero Beacons. Taking advantage of the reduced rate, this bundle can now be purchased for $599, instead of its regular cost of $679.This is a saving of $80 or over 10%.
Don't miss this amazing opportunity! If you are considering purchasing an Amazon Eero, now is the optimal time as these offers won't last forever. In addition to an unbeatable price, you'll benefit from increased speed and improved coverage for your home.
Benefits of Amazon eero Mesh Routers
There are several benefits to using Amazon Eero mesh routers in your home. Here are just a few:
Better Coverage: Mesh routers use multiple devices to create a network that blankets your home in Wi-Fi. This results in a comprehensive scope of coverage, extending to places like cellars and garrets which can be difficult to access.
Faster Speeds: The latest Eero routers support the Wi-Fi 6 standard, which offers faster speeds and better performance than previous standards. By utilizing this service, you can now acquire, disseminate, and upload content with a significantly enhanced speed.
Easy Setup: Setting up an Amazon Eero router is easy, thanks to the Eero app. This application leads you through each phase with precision, so you can be operational on your network within a few minutes.
Parental Controls: The Eero app lets you set up parental controls, so you can limit your children's access to the internet and block inappropriate content.
Smart Home Integration: Amazon Eero routers are compatible with Alexa, so you can use voice commands to control your network and connected devices.
Conclusion
In conclusion, the Amazon Eero WiFi 6 and Pro 6 mesh routers and systems are some of the best products on the market for improving Wi-Fi coverage in your home. These routers provide higher velocity, wider range, and simple assembly, making them an outstanding selection for anybody hoping to enhance their domestic network.
This is an opportune moment to purchase an Amazon Eero if that is something that appeals to you. With Today's Deals on Amazon, you can save money on the Eero WiFi 6 and Pro 6, and enjoy faster speeds and better coverage in your home.
So why wait? Take advantage of these deals and upgrade your home network today with an Amazon Eero mesh router.
Frequently Asked Questions (FAQs) about Amazon Eero WiFi 6 and Pro 6 Mesh Routers
What are Amazon Eero WiFi 6 and Pro 6?
The Amazon Eero WiFi 6 and Pro 6 are a new breed of mesh routers and systems that promise superior speed, dependability, and protection for all your home or work networking needs.
What is the difference between Eero WiFi 6 and Pro 6?
Perfect for smaller residences, Eero WiFi 6 covers an area of up to 1,500 square feet. For those who require coverage for a larger abode, Eero Pro 6 comes with a host of extras like tri-band technology and provides up to 2,000 square feet of range per device.
How does a mesh router work?
A mesh router uses multiple devices, known as nodes or access points, placed throughout your home or office to create a single, seamless WiFi network. This helps eliminate dead zones and provides consistent coverage in all areas.
What are the benefits of WiFi 6?
The newest WiFi standard, WiFi 6 or 802.11ax, has upped the ante by providing enhanced speeds, greater efficiency when there is a high density of connected devices, and a broader range of supported products. Its compatibility with existing WiFi standards is also preserved, allowing older products to join the party.
Can I add more Eero devices to my existing system?
Yes, you can easily add more Eero devices to your existing system to expand your WiFi coverage. The devices will automatically connect and extend your network without any additional setup.
Can I manage my Eero system remotely?
By utilizing the Eero app – which is accessible on both Android and iOS devices – you have the capability to oversee and modify your network settings, inspect which devices are connected, and address problems regardless of where you are.
Is Eero WiFi 6 and Pro 6 easy to set up?
Setting up Eero WiFi 6 and Pro 6 with the help of the Eero app is straightforward, thanks to its step-by-step guidance. Moreover, these devices have been specifically crafted to interact without any complications, rendering the installation procedure a breeze.