Tired of a keyboard that just doesn't provide a good experience? The Angel 65 Keyboard might be exactly what you're looking for! Learn all about this innovative device with our in-depth review. See why the tech world is raving about the ultimate typing experience!
The Angel 65 Keyboard is the result of years of research and development to create the ultimate typing experience. The Angel 65 mechanical keyboard has a distinctive look and feel that stands out from other keyboards. Customizable hotkeys, programmable RGB lighting, and a range of colors to suit your preferences are all included. The real attraction is its ergonomic design and tactile switches that guarantee a faster and more accurate typing experience.
Angel 65 Keyboard: Few Mints Review
In this review, we'll take a closer look at the Angel 65 Keyboard and evaluate its features and functionality. To enable you to make the most knowledgeable decision regarding the Angel 65 Keyboard, we will provide an in-depth review on its build quality, ease of use, and performance. If you are a passionate gamer, programmer, or anyone who frequently utilizes keyboards, then the Angel 65 Keyboard could very well be the ideal accompaniment for you.
Design and Build Quality: A Closer Look at the Angel 65 Keyboard
The Angel 65 keyboard is a mechanical keyboard that has been receiving a lot of attention lately. Gamers and typing enthusiasts alike can benefit from the design and build quality of the Angel 65 keyboard. With its 65% size, this keyboard offers a sleek, modern look and efficient performance for a superior user experience.
Design:
The Angel 65 keyboard has a minimalist design that is both sleek and modern. Two different options are available in this product: black and white, both equipped with a sleek silver aluminum frame. For an extra long lasting product, PBT plastic keycaps are implemented, delivering a smooth matte finish which is resistant to smudging and fingerprint markings.
One of the standout design features of the Angel 65 is the side-printed keycaps. The legends on the keycaps are located on the side, which gives the keyboard a stylish, minimalist appearance. Additionally, the font used for the characters is modern and easy to decipher.
The keyboard also features RGB backlighting, which can be customized using the keyboard's software. The RGB lighting is bright and even, and the colors are vibrant.
Build Quality:
The Angel 65 keyboard is incredibly robust due to its solid aluminum construction, and is impressively weighted at 1.2kg for its size, ensuring stability on the desk when in use.
The keycaps on the Angel 65 are made of PBT plastic, which is a higher quality plastic than the ABS plastic commonly used on most keyboards. PBT plastic is more durable and resistant to shine than ABS plastic. Boasting a 1.5mm thickness, the keycaps have an appealing heft to them and resist wobbling.
The Angel 65 keyboard boasts the renowned Cherry MX switches as the standard for its mechanical function. Available in Red, Blue, Brown, and Silent Red variations, each offering their own distinct feel and noise, this keyboard enables users to choose which type they prefer.
The Ultimate Typing Experience: How the Angel 65 Keyboard Performs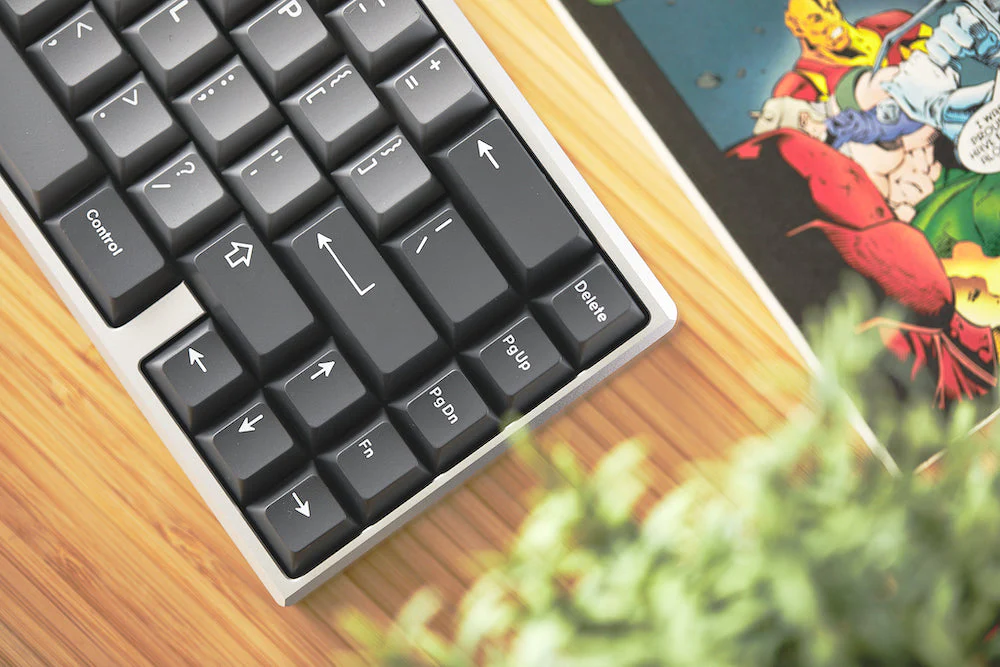 As we devote extended periods of time on our computers, the necessity for a dependable and effective keyboard increases substantially. Fortunately, the market is packed with multiple choices, one of which is the outstanding Angel 65 keyboard. This article will explore its attributes and performance in more detail, highlighting what sets this keyboard apart.
Switches and Performance
The Angel 65 keyboard offers an array of switch types from Cherry and Gateron that provide tactile feedback, as well as customizable actuation forces for varied typing preferences. Plus, its hot-swappable switches feature makes it possible to replace the switches without needing a full keyboard replacement. This option is particularly advantageous for users who are open to testing different switch varieties, or those who favor one type of switch for different applications.
With the Angel 65 keyboard, users can experience a seamless and efficient typing experience. Its tactile feedback allows users to have a tangible sense of every keystroke, ensuring precision and accuracy. Whether it be for gaming or professional purposes, this keyboard was crafted to cater to any need.
Programming and Customization
The Angel 65 keyboard comes with a robust programming and customization software called QMK firmware. This software provides a convenient and straightforward way to configure the keyboard's layout and to allocate macros to individual keys. Even for inexperienced users, this software is effortless to use and comprehend. Furthermore, with multiple layers, it's possible to customize the same key to function differently based on the layer being accessed.
With an integrated memory chip, this keyboard stores your personalization options and can be seamlessly used on multiple devices, eliminating the need to reset configurations after every switch.
Customization and Personalization: Exploring the Angel 65 Keyboard's Features
Finding the right computer peripheral can be challenging, but none are as vital as the keyboard. Gamers, writers, and casual users alike use it as their primary source of interacting with their system, so it's essential to pick one that fits individual requirements. Those seeking a fully customized option may want to explore the Angel 65 keyboard for their needs.
The Angel 65 keyboard is specifically created to offer its users a considerable level of command over their PC operations. One of the key features of the Angel 65 is its programmability. Using the QMK firmware, users can customize virtually every aspect of the keyboard's functionality, from remapping keys to creating complex macros.
For example, let's say you're a gamer who plays a lot of first-person shooters. You might want to remap the WASD keys to the arrow keys for more comfortable movement, or you might want to assign certain commands to dedicated macro keys. With the Angel 65, you can do all of that and more.
With its highly customizable design, the Angel 65 offers much more than just excellent functionality. An extensive selection of keycap options and colour schemes make it possible to personalise the keyboard to one's individual tastes, from a minimalistic aesthetic to a striking, vibrant look. Create your own keyboard and make it a true reflection of your own style.
Angel 65's appeal is its customization possibilities, especially with keycap replacement. It already features a set of premium PBT keycaps, however many people want to upgrade the aesthetics and tactile experience with a personalised selection of custom keycaps. There's a large variety to pick from, spanning the spectrum from single-coloured schemes to vibrant and detailed motifs.
Pros and Cons: What We Love and What Could Be Improved About the Angel 65 Keyboard
The Angel 65 keyboard is a highly popular mechanical keyboard among gaming enthusiasts and typists alike. With its sturdy build quality, smooth keystrokes, and customizable RGB lighting, it has become a go-to choice for many. However, like any product, the Angel 65 has its pros and cons. In this article, we will explore what we love about the Angel 65 keyboard, as well as what could be improved.
Pros:
Customizable RGB Lighting: The Angel 65 comes equipped with a vast array of RGB lighting capabilities, as each key can be illuminated with its own illumination. You are provided with the opportunity to personalize the lighting as desired, providing you with a range of effects and color choices.
Programmable Macro Keys: The keyboard has six programmable macro keys that can be set to perform various functions or shortcuts. This feature is especially useful for gamers who want to execute complex moves with a single keypress.
Multiple Connectivity Options: The Angel 65 has many options for connectivity, from USB Type-C and Bluetooth to a detachable cable. With these, users can easily link it to laptops, desktops, and smartphones.
Great Typing Experience: The key switches on the Angel 65 provide a smooth and satisfying typing experience, with a nice tactile bump and audible click. The keyboard is also available in a variety of switch types, including Cherry MX, Gateron, and Kailh.
Cons:
No Dedicated Media Controls: The Angel 65 lacks dedicated media controls, which can be frustrating for users who frequently listen to music or watch videos while using their keyboard.
Limited Keycap Compatibility: The keyboard has a non-standard layout, which means that finding replacement keycaps can be difficult. This can be an issue for users who like to customize their keyboard with different keycap sets.
Price: Although the Angel 65 keyboard is renowned for its high quality, its premium cost could be too expensive for some individuals searching for a more cost-effective solution.
Limited Software: This gaming keyboard lacks certain high-level features present in its counterparts, meaning gamers may miss out on the ability to tailor their experience to their exact needs.
No USB Passthrough: Absent a USB passthrough, the Angel 65 requires that peripherals be connected to the user's computer directly. This can prove troublesome for individuals possessing multiple gadgets they need to plug in.
Ease of Use: Getting Started with the Angel 65 Keyboard
Gamers looking for a dependable and comfortable keyboard need not look any further than the Angel 65 Keyboard. This mechanical keyboard was specially designed with gaming in mind. Its space-saving shape and ergonomic layout make it simple to utilize and perfect for a wide variety of gaming styles. In this article, we will cover the basics of setting up and utilizing the Angel 65 Keyboard.
To start utilizing your Angel 65 Keyboard, begin by connecting it to your computer. It's equipped with a USB-C cable which easily attaches to both the device and any vacant USB port on your computer. As soon as the keyboard is linked, your computer should recognize it immediately and install any necessary drivers.
Afterwards, personalize your keyboard according to your preferences. The Angel 65 Keyboard has a few customizable features that you can use to optimize your gaming experience. For example, you can use the keyboard's software to program macros, set up custom lighting profiles, and adjust the keyboard's RGB lighting.
The keyboard software can be obtained from the producer's website, available for Windows and Mac computers. After the download is completed, installation and opening is simple.
You have the ability to tailor your keyboard with the ability to create macros. These macros enable you to allocate a combination of keystrokes to a solitary key, and are advantageous for tasks that are tedious or need repetitive processes in games and the quick input of lengthy phrases.
With the Angel 65 Keyboard, you have the power to customize its RGB lighting to match your own style and preferences. There is a selection of ready-made lighting effects to choose from, or you can create your own personal lighting profile.
Not only is the Angel 65 Keyboard adjustable to suit individual preferences, it also features several helpful elements integrated into its design. It comes equipped with a wrist rest, which can help stave off fatigue when used for extended periods. Moreover, its keys are comfortably constructed and conveniently easy to press, helping to prevent the risk of injury caused by repetitive motions.
The Angel 65 Keyboard offers an incredibly convenient feature of a smaller size than the standard full-size keyboards, allowing for less of a footprint on your desk. This is perfect for anyone with a limited workspace or who need to place their keyboard in a confined space.
To ensure upkeep, the Angel 65 Keyboard was designed with easy-to-clean properties. The keycaps can be taken off and wiped down with a cloth or brushed clean. Additionally, its casing can also be wiped down with a damp cloth to eliminate dust and dirt.
How the Angel 65 Keyboard Performs with Different Devices
The Angel 65 Keyboard is a versatile mechanical keyboard that promises exceptional performance with different devices. It is a popular choice among gamers, programmers, and writers alike due to its high-end features and superior typing experience. But, how does it actually perform with different devices? In this article, we'll explore how the Angel 65 Keyboard fares with various devices.
To begin with, the Angel 65 Keyboard is structured to be operational with almost any device. This keyboard can be connected with computers, laptops, tablets, or mobile phones with both wired and wireless connections. Through its Bluetooth 5.0 connection and USB Type-C support, you are guaranteed to experience an effective and quick connection with any device you want to use the keyboard with. Thus, this keyboard ensures an easy setup for typing with any device.
The Angel 65 Keyboard stands out from the rest with its superior performance. Thanks to the Cherry MX switches, typing is swift and comfortable with every press registering independently, resulting in accurate keystrokes with no delays. As the switches are also highly durable, the keyboard can endure for many years and countless keystrokes.
In terms of gaming, the Angel 65 Keyboard is a great choice for gamers who use different devices. It features customizable RGB backlighting that can be adjusted to match any gaming setup. The keyboard also has a game mode that disables the Windows key to prevent accidental game interruptions. With its responsive Cherry MX switches, full-key rollover, and customizable backlighting, the Angel 65 Keyboard provides a seamless and immersive gaming experience across all devices.
Programmers favor the Angel 65 Keyboard for its practical design and programmability. It's small enough to use on the go, with keys that can be individually programmed for particular functions. Moreover, the dedicated function row can be personalized for specific actions. For those who require the versatility of multiple devices, the Angel 65 Keyboard is a top choice.
For writers and content creators, the Angel 65 Keyboard is an excellent choice for typing on different devices. The Cherry MX switches provide a satisfying typing experience that is both comfortable and accurate. Featuring a lightweight design, this keyboard is highly portable, enabling users to write wherever and whenever. Moreover, its Bluetooth compatibility allows for quick connection to a smartphone or tablet for seamless on-the-go work. With its superior typing experience and wireless connectivity, the Angel 65 Keyboard is an ideal tool for writers who work across different devices.
conclusion
Ultimately, the Angel 65 keyboard is a reliable and dependable choice for both gaming and typing. Its convenient form factor, adjustable settings, and robust material ensure it is suitable for regular, heavy use. Its various switch selections, programmable shortcuts, and vibrant RGB lights make typing or gaming on the Angel 65 comfortable and entertaining. To sum up, if you're on the hunt for a keyboard that has all the bells and whistles, the Angel 65 should be high on your list.
Frequently Asked Questions (FAQs) about Angel 65 keyboard
What is the Angel 65 keyboard?
The Angel 65 keyboard is a high-quality mechanical keyboard that is known for its compact size and customizable RGB lighting.
What kind of switches does the Angel 65 keyboard use?
The Angel 65 keyboard is available with a variety of different switches, including Gateron, Kailh, and Cherry MX switches.
Is the Angel 65 keyboard wireless?
No, the Angel 65 keyboard is a wired keyboard that connects to your computer via USB-C.
Can I customize the RGB lighting on the Angel 65 keyboard?
Yes, the Angel 65 keyboard features customizable RGB lighting that can be adjusted using the keyboard's software.
Does the Angel 65 keyboard come with a wrist rest?
No, the Angel 65 keyboard does not come with a wrist rest. However, you can purchase a separate wrist rest if desired.
Is the Angel 65 keyboard compatible with Mac computers?
The Angel 65 keyboard can be used with Mac computers, but not all its specialized features will operate.
What is the warranty on the Angel 65 keyboard?
The Angel 65 keyboard comes with a 1-year warranty that covers any defects in materials or workmanship.
Can I replace the keycaps on the Angel 65 keyboard?
Yes, the keycaps on the Angel 65 keyboard are removable and can be replaced with custom keycaps if desired.
Is the Angel 65 keyboard good for gaming?
Yes, the Angel 65 keyboard is a great choice for gaming due to its responsive mechanical switches and customizable RGB lighting.
How much does the Angel 65 keyboard cost?
The cost of the Angel 65 keyboard varies depending on the switches and other customization options chosen, but typically ranges from around $150 to $250.